Small Business Web Design
VTG Brings Your Vision To Victory
At VTG Business Group, we understand the importance of a well-designed and functional website for small businesses and service businesses. You need to be able to compete in a fast-paced local market, so we work to create fast, highly optimized websites that not only look great but also drive results. Whether you're looking to attract new customers, generate leads or increase sales, our web design and development services can help you hit the mark.
We Build Websites That Are On-Target
A web design that is tailored to your specific business is a highly valuable business marketing tool. The right web design and content will elevate your visibility and credibility. By improving customer confidence, you will boost their interaction with your company.
Your online presence has to have more than just a pretty face… Your small business web design can't meet your expectations if it doesn't produce results. So, we start at the beginning and make sure your foundation, content and branding are focused and targeted to the right audience. We do our research and work with you so that you can generate the results you need. An outstanding web design built on a solid foundation is the key to a website that meets the goals of the owner.
At VTG Business Group, every step of our web design process is meticulously focused on enhancing your new website's ability to thrive in local search performance. Recognizing the pivotal role that local search plays for small businesses, our custom built websites are not just digital showcases but powerful, local SEO-optimized tools designed to elevate your visibility where it matters most – in your immediate market. VTG embeds strategic keywords, prioritizes mobile-friendliness, and incorporates geo-specific elements, ensuring your site resonates with the community you serve, converting local searches into tangible business opportunities.
VTG's Professional Approach To Your Web Design Project
We follow the same specific steps in the same specific order for every web project we undertake. There are no short-cuts to our design & development process. You can review each of the steps we take my clicking on the tabs below.
Market Research: Navigating Your Website Success
In case you hadn't noticed, the Internet is a big place with a lot of stuff. So, if you want a strong website that gets good traction, you need to start out with a well-reasoned plan and great web design. That's why we start every project with complete market research. This helps ensure that your website is a calculated step toward digital success.
Keyword Research: Our first step is to determine what your prospective consumers are searching for. With rigorous keyword analysis, we target opportunities. By pinpointing the phrases and terms your audience uses, we carve out a pathway for your website to shine right where it matters most.
Competitive Research: Knowing your competitive market area is crucial. We will deep-dive your competitors keywords and content strategies. We dissect what works and what doesn't in your market space. By understanding their strengths and vulnerabilities, we position you not just alongside but a leap ahead. Your competitors are our best informants, and we ensure you stay a move ahead in this digital chess game.
Trends Analysis: Markets evolve, and so should your strategies. By analyzing market search trends, we position your company to be relevant for the long-haul. This foresight ensures your product or service isn't just reacting but leading the way in your niche.
Sentiment Analysis: In the age of digital vocalization, what your audience says about you is pivotal. We scour reviews, dive deep into social media activity, and dissect every piece of feedback about your brand and market segment. By understanding sentiment, we better ensure your brand resonates, connects, and builds lasting relationships.
With this arsenal of insights, we don't just create; we strategize, ensuring every pixel we craft for your web design project and every line of code we write is a step forward in your digital success.
Website Architecture: Your Blueprint for Digital Success
In terms of competitive local markets, the architecture of your web design is a foundational piece of your digital success. Our focus on crafting a robust website architecture ensures that every corner of your website excels.
Ready For Search: Our website architectural designs are finely tuned to the rhythms of search engines. When bots visit, they don't stumble; they power through your content, comprehending and categorizing. The harmonious interplay between web design and search engine means great visibility and better rankings.
Easy Navigation: A visitor's journey through your website should be simple and intuitive. With properly siloed pages, we help you structure your content to encourage site exploration. As visitors delve deeper, they uncover the breadth and depth of what you offer, leading to prolonged engagement and deeper connections.
Proper Page-Authority Distribution: Every page in your web design is an opportunity. So we make sure that it's distributed correctly. This approach amplifies search opportunities, ensuring each page becomes a beacon for potential customers.
Optimizing Topical Authority: Content isn't just about volume; it's about connection. Through strategic internal linking, we weave a web design where related topics boost each other, establishing you as a go-to source in your market.
Conversion-Oriented Design: Any good local market website can be judged based on its ability to convert. We build your web design to encourage visitors to take action. We minimize friction and maximize opportunities. Whether it's a product purchase, a newsletter subscription, or a service inquiry, we pave the path to effortless conversions.
In the world of web design, you need to think beyond just a pretty website. Our holistic approach to website architecture means that every aspect of your web design is carefully crafted for optimal results. Your digital space is more than a presence; it's a powerhouse.
UI/UX Design: Crafting Your Digital Presence
User interface (UI) and user experience (UX) are two terms you may have heard before. User Interface (UI), refers to the visual appearance of screens, buttons, icons, and other elements that you encounter when using a website. UX (User Experience) refers to the entire interaction you have with a website, including how you feel about the interaction. While UI can certainly have an impact on UX, the two are distinct, as are the roles that designers play.
Customized Look & Feel: Every audience type is unique, each carrying their aspirations, preferences, and triggers. Recognizing this, we meticulously craft the visual 'look and feel' of your web design. We sculpt experiences, ensuring that as each visitor meanders through your digital tapestry, they feel heard, understood, and catered to.
High-Fidelity Wireframes: The wireframing process is where we design your website before we build it. Here, abstract ideas about your web design evolve and take shape. From careful font selection to precise image dimensions and button styles, we lay the blueprint, providing you an opportunity to see your website even before its built.
Considering your brand guidelines as our starting point, we dive-deep into UI design, bringing your website to vibrant life. But it's not just about visuals. We breathe life into the site with animations, select photography, and crafted copy. Armed complete information from our research phase, we refine the user experience, ensuring every interaction is not just delightful but also effortlessly intuitive.
Interactive Prototypes: Your website should not just be seen; it should be felt. Our interactive mockups don't just showcase content but unveil a sensory experience. From the subtle allure of a button animating upon a cursor's hover to the grand reveal of content, we choreograph a digital ballet that mesmerizes and engages. In the arena of UI/UX, we don't just design; we narrate stories, craft experiences, and build relationships. Dive in, and let us orchestrate your digital symphony.
Optimized Website: Dialed-In For Success
A website is more than simply a collection of pages in the digital world; it is a living creature that communicates, engages, and drives action. Our approach to optimized site content is comprehensive, spanning all aspects to ensure that your website is not only viewed, but also felt, understood, and acted upon.
Professional Copywriting: Words have power, and we ensure that every word on your site exerts it. We carefully develop content that not only informs, but also persuades, moving your visitors from simple curiosity to determined action. Every headline, paragraph, and phrase is designed not just to be consistent with your brand language, but also to increase conversions, ensuring that your message is both appealing and successful.
Engaging CTA's: A visit to your website should not be boring. Our CTAs are more than just buttons; they're carefully positioned invitations to interact, learn more, and connect deeper with your visitors. Our CTAs are designed to stand out while seamlessly integrating into your content. They become the pulse points, directing visitors to desired results.
On-Page SEO: Visibility is the bedrock of digital success. Every technical aspect of your site, from meta tags to image optimizations and alt tage, are meticulously optimized. We make certain that search engines not only locate you, but also comprehend and positively rank you. We ensure that your website becomes a beacon of relevance and authority in the huge digital sea by combining content with technical SEO.
Unrivaled Site Speed Optimization: In the Web world, milliseconds count. Website speed is everything. A fast website isn't just preferred by website visitors but loved by search engines as well. We go beyond compelling content to employ technological methods like as caching and minification to ensure a fast website. Every picture, script, and element has been optimized, guaranteeing that your site isn't just fast—it's lightning-fast, giving an exceptional user experience.
Every pixel on your website, every line of code, and every word written is optimized with one goal in mind: to create a unified, captivating, and conversion-focused digital experience. With our help, your website will be more than just a digital presence; it will be a force for engagement, exposure, and action.
Analytics & Monitoring: Your Digital Safeguards
It might seem like your website deployment is the grand finale. But in reality, the story of your website doesn't end with deployment. It transitions into a new chapter—one of vigilance, analysis, and continuous improvement. With our Deployment, Monitoring & Tracking protocols, we ensure your website doesn't just shine at launch but remains a beacon of excellence throughout your market area.
Professional Deployment: Once your vision is meticulously crafted and you've given the nod of approval, we prep for the grand reveal. Every byte of data, every line of code is professionally backed-up, ensuring a smooth transition as your prototype makes its dazzling debut live on the web. No detail is overlooked; every component is checked and rechecked, paving the way for a seamless digital unveiling.
Sitemap Submission & Indexing: There's a lot going on around the web, so we don't wait for search engines to find you. Armed with a revised sitemap, we proactively knock on their digital doors, submitting your site for swift indexing. This ensures you are not just present, but prominently positioned in search results.
Analytics Installation & Performance Tracking: Knowledge is power, and data is its fuel. By integrating top-tier analytics software, we provide you with a crystal-clear view of your website's performance. From visitor demographics to behavior patterns, we track, analyze, and interpret, ensuring every decision is data-backed and success-oriented.
Unrelenting Uptime Monitoring: In the digital world, availability is as crucial as quality. Our vigilant eyes are always on your website, monitoring its uptime. We ensure that whenever a visitor decides to engage with you, your website is ready, welcoming them without a hitch.
Backup Systems & Updates: In a world of uncertainties, we prioritize your peace of mind. Regular backups act as your digital safety net, ensuring that come what may—a server glitch or a technical hiccup—your content, data, and hard work remain untouched, ready to be restored at a moment's notice. We also monitor for any needed software updates or security patches as soon as they are available.
With our comprehensive approach to Deployment, Monitoring & Tracking, your website is not just launched—it's nurtured, watched over, and optimized. We stand guard, ensuring every pixel performs, every visitor is valued, and every potential challenge is preemptively addressed.
Small Business Websites
VTG Turns Clicks Into Clients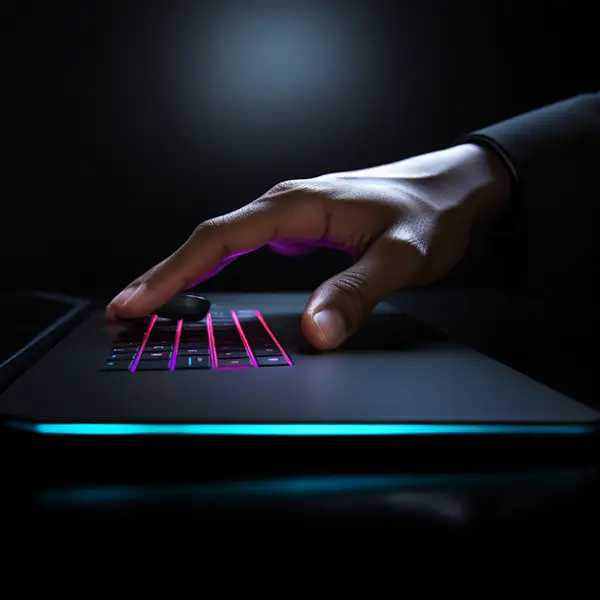 Navigating the local market can be tricky, especially when your small business website faces hurdles like low conversion rates, frustrating bounce rates, or sluggish page loads. That's where you can rely on VTG. We dive deep into the nitty-gritty, turning potential pitfalls into web design wins. Imagine a site where every click converts, every page loads like a breeze, and every visitor sticks around, charmed by seamless navigation and compelling content. Our web designs don't just look pretty; they address the heart of the matter – enhancing your search rankings, giving your brand that extra sparkle, and ensuring visitors don't just bounce but stick around, engage, and convert. With a VTG web design, your local business won't just be seen; it'll be remembered, enjoyed, and chosen, time and time again. Let's elevate your digital presence together and transform those web woes into wondrous wins!
Landing Pages
VTG Builds Landing Pages That Soar
Jump into a world where the "clicks" on your ad soar! VTG can help you make that happen. A great landing page helps you focus on one conversion goal and maximize your ROI by focusing content to one targeted group at a time. VTG knows that a mighty landing page doesn't just 'land'; it propels, engages, and converts. Specializing in unique and custom-designed landing pages, our aim is not just to capture but to captivate your local audience. 
VTG can help you create a synergy where compelling visuals, snappy text, and strategic layouts play in perfect harmony to generate results. In a universe saturated with generic pages, let's create a landing page that genuinely converts, connects, and chronicles an engaging tale of your local brand.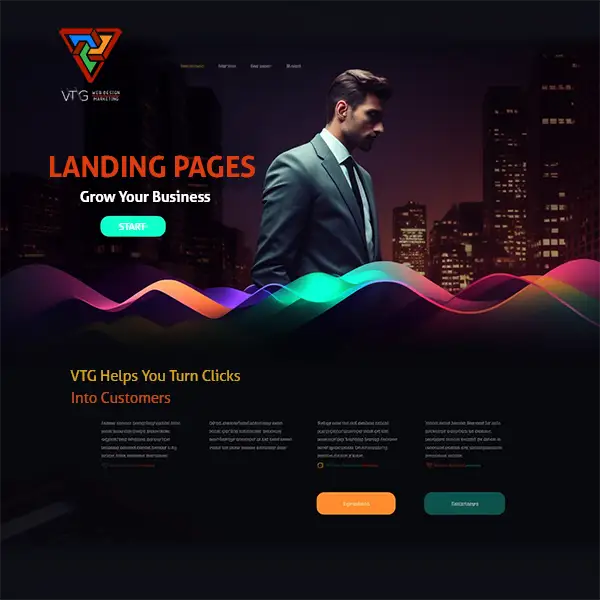 Microsites
Mini Sites With Maximux Impact
VTG can help you create a world where every marketing campaigns or sideline projects gets the spotlight they deserve with a custom microsite. A sleek, clutter-free microsite does one thing exceptionally well: it zooms in on your special projects and campaigns, by focusing on only one thing without the hustle of a comprehensive website. Your small business is able to speak directly to a handpicked audience, ensuring they get content meant for them.
VTG microsites are compellingly concise. They deliver your message with an impact that sticks. Whether you're starting a new marketing campaign or exploring a sideline project, our microsites ensure your project is in the spotlight, uncluttered by the varied offerings of your main website. They are a powerhouse for generating leads and amplifying your local presence. Explore, expand, and experiment without overhauling your main site. Let's create micro-magic together with VTG Business Group.
Non-Profit Websites
VTG Helps Amplify Your Mission
Let VTG help your Non-Profit magnify your impact. Envision a digital platform that's not just a website but a vibrant, interactive space that sings your organization's story, mission, and pivotal impact. VTG is your digital partner dedicated to curating a website that seamlessly marries your non-profit's invaluable mission with audience-engaging design and functionality.
We come armed with a decade of experience, specifically attuned to the unique challenges and aspirations of non-profit entities. From custom designs, potent SEO, to seamless website development, and hosting – we offer a spectrum of services all tuned to echo your mission compellingly and authentically. With VTG Business Group, your message is not just shared; it's lived. Let's work together and catapult your non-profit to new digital heights.
Customized Web Components
Your website should be your most productive business asset that constantly elevates your interactions with your customers. That's why we specialize in customizing some important elements to amplify your impact, optimize user interactions, and propel your business to better results.
Web Automations
Website automations streamline your online operations and reduce manual tasks, ensuring your website runs efficiently 24/7. Discover the power of seamless website operations. Dive into website automations today!
Push Notifications

Push notifications keep your audience engaged, delivering timely updates directly to their devices so they never miss out on what's new and noteworthy. Boost engagement with real-time alerts. Activate push notifications now!
Custom Forms
Custom forms tailor-made for your site not only capture essential data but also elevate the user experience. This makes every interaction on your site meaningful and efficient. Start using our custom forms today!
Integrated Email
Domain level email enhances your brand's credibility and authority. Make a memorable impression with every email. Switch to domain level email and elevate your brand's presence today!
Custom Videos

Custom videos allow for a personal touch and engaging storytelling that makes your message unforgettable. Tell your story the way it deserves. Dive into the world of custom videos and captivate your audience now!
A I Integration
Harness the power of smart algorithms to deliver personalized experiences like never before. Unlock the next level of efficiency and innovation.
Embrace AI integration for your business today!
Some Of Our Recent Work
Although our web design process is digital, we really create stories to help connect people. The guiding principles of our entire work process is to help create human connections between customers and your company with digital products. Let us help you create a digital experience that makes it easy for your customers to connect with your company, products, and services. Here are a few of the clients with whom we've had the pleasure of working.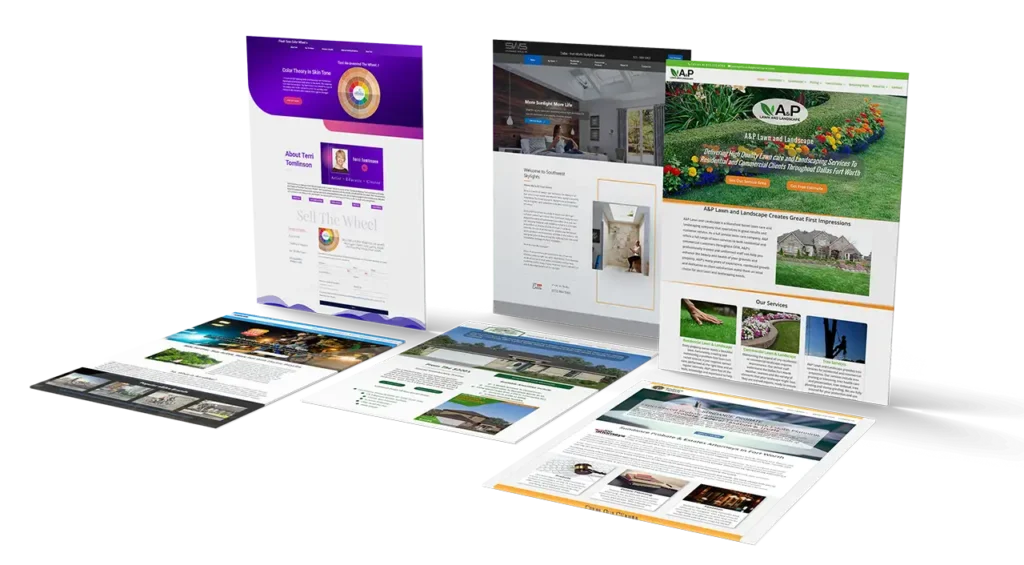 See Portfolio
FAQs About Web Design From VTG
Curious about any of our services? We have listed a few of the most common questions we are asked for your review. If you have any unanswered questions after reading these, feel free to reach out to us directly. We'll be happy to help.
How Much Does Small Business Web Design Cost?
No doubt, the cost of creating the perfect digital home for your small business is a big consideration, and we approach it with the transparency and clarity you deserve. We are not able to provide you a specific figure until we understand the full scope of your project. That's why we kickstart our collaboration with a complimentary "Strategy & Discovery" phone call. During this conversation, we delve into every nuance of your project, ensuring we capture your vision and requirements in detail. Based on our discussion, if it looks like we are a good fit, we'll then furnish a comprehensive project proposal. This document will encompass complete pricing, timelines, and all the specifics, ensuring you have a clear roadmap for our collaborative journey ahead. VTG is all about clarity, commitment, and creating the best digital solution for you.
How Long Will It Take To Build My Website?
The timeline for designing and developing a website is always important. We know that faster is usually preferred. The reality is that our projects take between 60 – 100 man hours to complete. Our process is thorough and professional and we don't take shortcuts. Usually we can complete the 100 man-hours within 3-5 weeks. If you have particular issues with time, let us know and we will work with you to find a solution. Rest assured, while we strive for expediency, we never compromise on the quality and detail that goes into creating your most important online asset. Your business's website deserves both timeliness and excellence, and we're committed to delivering both.
Do I Need To Provide The Content (text, images, etc.) For My Website?
The short answer is no; we will work to make the process as seamless as possible for you. While you're not required to provide the text, images, or other content for your website, we definitely welcome any materials you might already have such as logos, staff photos, or specific branding elements. VTG includes content development as a part of our web building process. You'll have a full opportunity to review and edit this content, ensuring it aligns perfectly with your vision and brand voice. We're passionate about delivering a final product that not only meets but exceeds your expectations, ensuring your website genuinely embodies the essence of your business.
Will I Be Able To Update My Website Or Will You Do It?
Empowering our clients is a core philosophy at VTG. If you're eager to take the reins and make updates to your website post-launch, we'll be more than happy to guide you through the process and equip you with the know-how. Please remember that, like mastering any skill, this might require some time and practice. However, if you'd prefer a hands-off approach or find yourself pressed for time, we will always be at your service to implement any changes or updates you need. We believe in flexibility and offering solutions that best fit your needs, ensuring your website remains fresh, relevant, and reflective of your changing business needs.
Do You Offer Ongoing Support After The Website Goes Live?
Absolutely! VTG knows we are just getting started when a website is launched. Every website we build includes a comprehensive year-long support package, which includes free updates, routine backups, and essential software updates. This ensures your online presence remains secure, efficient, and up-to-date. After this period, should you choose, we'd be delighted to continue serving as your dedicated web partner, handling all website matters so you can focus on what you do best – running your business. Your long-term success and peace of mind are paramount to us.
Can You Show Me Examples Of Websites You've Designed?
Of course! We take immense pride in the work we've accomplished and the diverse range of businesses we've assisted in their digital journeys. Our portfolio section showcases a curated selection of our previous designs, reflecting our commitment to quality, innovation, and individualized solutions. If you're looking for examples in a specific niche or style not featured in our current portfolio, please don't hesitate to reach out. VTG has a broad spectrum of experience, and we're always eager to share more examples that align with your vision or industry needs. Together, we'll ensure your website resonates perfectly with your audience and business goals.
Does A New Website Build Include Web Hosting?
Great question! The choice is entirely yours. If you'd prefer an all-in-one solution, we can certainly bundle web hosting into our service package. It's worth noting that we exclusively collaborate with providers that offer business-class hosting. This ensures that your website benefits from top-tier performance, reliability, and security. We recognize the pivotal role a reliable web host plays in a successful online presence, and we're uncompromising when it comes to quality. If, however, you have a preferred hosting provider or wish to explore this aspect independently, we're fully adaptable. There are minimum standards any web host must meet before we can install a website on their servers. We will cover this in more detail during the "Strategy & Discovery" phone call. Our goal is to ensure a smooth and hassle-free experience for our clients, with the assurance that your website is in capable hands, regardless of the hosting choice.
Do You Offer Revisions?
Definitely! We're dedicated to ensuring that the website we craft for you is a true reflection of your brand and vision. Throughout the build process, there are multiple checkpoints where you'll have the opportunity to review our work and suggest revisions. This iterative approach ensures that the end product aligns seamlessly with your expectations. That said, many of our clients find that due to our in-depth discovery process at the outset, we're often precisely in tune with their aspirations from the get-go. VTG prioritizes open communication and meticulous attention to detail to ensure that the final result not only meets but exceeds your hopes and objectives.
Will My Website Look Good On Phones?
Absolutely! In today's digital age, a mobile-responsive website isn't just a luxury, It's a necessity. Every website we design is optimized to function seamlessly across all device types, ensuring a consistent and engaging user experience. Moreover, if you're a B2C company, we recognize the paramount importance of mobile traffic for your business. In such cases, we adopt a "Mobile-First" approach, prioritizing mobile design and functionality. This guarantees that your website not only looks impeccable but also operates flawlessly on all mobile devices. VTG is committed to ensuring your brand shines brightly across all platforms, reaching your audience wherever they may be.
How Is Your Service Different From Online Web Builders?
That's an important question, and it touches on the core of what sets VTG apart. While online website builders can be convenient for basic needs, our approach dives much deeper. We don't treat your website like an online-art project. We see it as a pivotal business asset tailored to serve your unique goals. Every element we craft is custom-designed, ensuring that your digital presence stands out distinctively and resonates with your audience. Moreover, the quality and performance of our builds are of an elevated standard. Notably, our expertise ensures that your website is optimally SEO-ready, positioning you effectively in search results. Choosing VTG means opting for a tailored, high-quality, and strategic approach to your digital footprint.
What If I Need A Re-Design, Or Maintenance In The Future?
Rest assured, you will need some amount of work in the future. Future adaptability and sustainability are cornerstones of our web design approach. Should you ever want a redesign, an update, or ongoing maintenance, you can be assured that the groundwork we've laid is conducive to seamless adjustments. Every website crafted by VTG adheres to the highest best-practice standards, guaranteeing flexibility and adaptability. Our commitment to excellence doesn't just focus on the present but also anticipates your future needs. With a foundation that's built to be easily maintained and updated, you can always stay ahead of the curve, ensuring your digital presence remains fresh, relevant, and aligned with your evolving business goals.
What About SEO? Will My Website Be Optimized For Search Engines?
Absolutely, SEO is not just an afterthought or add-on for us;. It's an integral part of our web design & development process. Every website we design is built in line with best-practice SEO standards. From meticulous coding of all relevant meta information to ensuring your site's structure is search engine-friendly, we cover all the bases. Plus, to help you maintain a market edge, we install specialized SEO monitoring and optimization software on your site at no additional cost to you. This means that not only will your website be primed for search engines from day one, but you'll also have the tools to monitor and enhance its performance over time. With us, your digital presence is always set up to shine brightly in the vast online landscape.
How Can I Track The Success Of My New Website?
Measuring success is as crucial as achieving it. VTG integrates advanced analytics tracking software, enabling you to monitor and understand the impact of your online marketing efforts in real-time. This ensures you're always informed about user behavior, traffic sources, and other vital metrics that drive success. Furthermore, for the first year post-launch, we take on the mantle of monitoring this for you—completely complimentary. It's our way of ensuring you get the most out of your digital investment. With our comprehensive approach, you're not just set up for success; you're equipped to measure, learn, and iterate towards even greater achievements.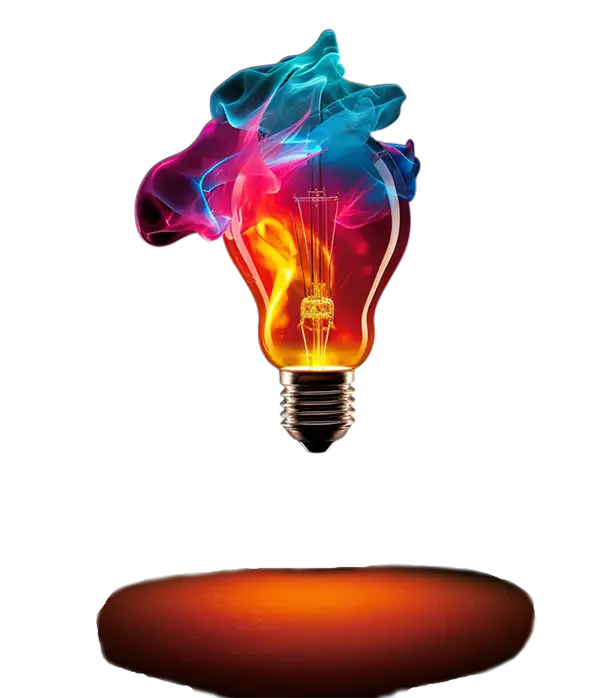 Illuminate Your Digital Potential
Illuminate your online presence like never before. With VTG, step into a realm where innovative web design meets strategic functionality. Watch as we transform your digital space into a vibrant hub of user engagement and conversions. Shine brighter in the digital world; partner with VTG.
Contact VTG